Last night I went to see
Sarah Vowel
l
give a reading at the Lisner Auditorium at GWU. I'm a huge fan of hers because she's funny and because she makes me feel better about being a history geek. It was a great talk followed by a great Q&A in which she deftly handled some of the more awkward questions from the audience (Note - Asking someone who just spent an hour talking about dead presidents and humorously bitter cartographers if they've ever been to the Black Cat is not cool). But what I've found most memorable is how it happened at the end of a day that accidentally became all about this new phase in the love affair between me and DC and yet the one remark that got the loudest response from me and several others was about the time her friend, who was living in DC, told her that everyone who lives here thinks about living somewhere else. Of course we applauded that which seemed to shock her a little.
Three years in and not a week goes by that I don't pause and think "I should be back in Jersey/I didn't live in NYC long enough/I've never even been to the West Coast so of course I should live/Florida is great this time of year/Man those pics my friends post of New Mexico are gorgeous/A cruise ship, that's it, I'll live and work on a cruise ship." DC is home of military personnel who do nothing but move all the time, students who graduate and politicians whose terms always eventually end. It's very pulse beats with the reminder that there are a lot of roads out of the city and a lot of nicer places to be.
But I'm here and I'm staying. Probably not forever but those other places can wait. I'm still putting my map together and fusing the city into one experience for me. I went to the Lincoln Memorial yesterday with a friend who lives in DC and I realized when we got there that I haven't been to the Lincoln Memorial since I was three and we stopped on our way back to Jersey from Disney World.
I have evidence courtesy of my mom and our Polaroid camera. Yes that blurry blob in front of Abe is me and my dad:
DC in October 1983: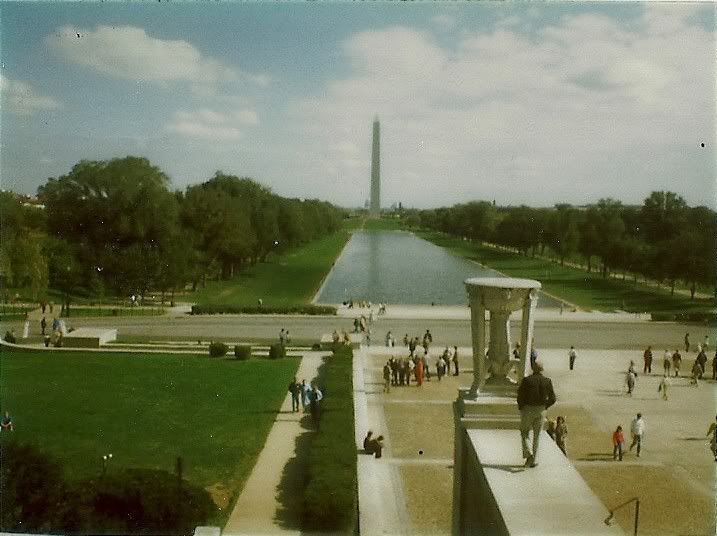 I'm not a very touristy person. I blame it on growing up close enough to NYC to share their ire at the throngs of curious out of towners who make a big deal out of everything New York. I've driven by the Statue of Liberty well over a hundred times in my life but never been inside, I've walked past the Empire State Building but never been inside and I went to see the Christmas tree at Rockefeller Center once and vowed never to go again.I'm not even that big a fan of Central Park. I've treated my time in DC as an exercise in getting to know the "real" part of the city. I go to the museums because going to museums is one of my favorite things to do and I'll go to them anywhere but I tend to avoid the monuments. I visited a few of them when a friend was in town from Canada last fall but for the most part they're really big things I occasionally drive by or close to.
And yet it was fun to be touristy for a day especially on an off season, unseasonably warm November day. There were tourists, especially at the Vietnam memorial and the Lincoln memorial but they didn't seem like a throng. I'll even forgive the guy who ran up the marble steps at the Lincoln Memorial and did the whole Rocky routine, either confused as to what city he was in or just not caring.
There's no denying the beauty of that part of the city. I think the Tidal Basin is even prettier in the fall than during Cherry Blossom season. Evidence courtesy of me and my Blackberry Torch: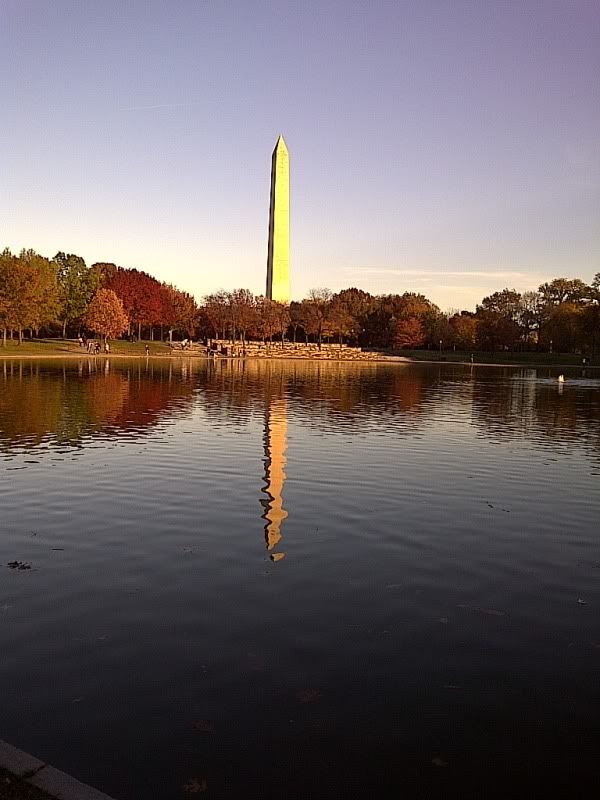 Abe and the Reflecting Pool are still there, just as they were in 1983: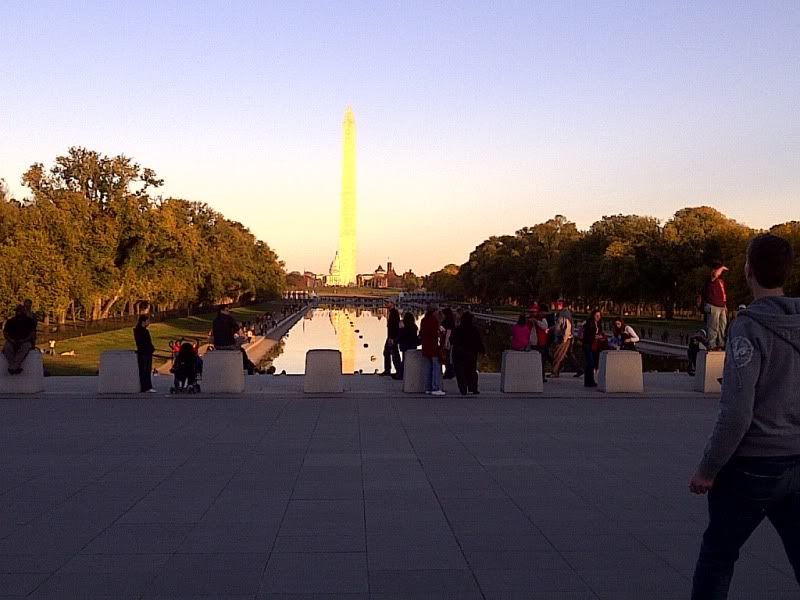 It was a nice bonding afternoon with a section of DC I don't give enough credit. Of course after dinner in Dupont Circle with friends, and the Sarah Vowell reading at GW I ended my evening at a house party for a friend of a friend in Shaw. It was in an apartment tucked away in a part of DC that I've gotten to know very well but that few if any tourists venture to. There's not much to see besides a neighborhood full of people who are there for a long haul or just for awhile. And of course everyone I met was from somewhere else and conversations varied from Midwest politeness versus East Coast politeness to dating in DC (Everyone is root-less someone answered to the question of why is it so hard to meet someone here).
Sarah Vowell did answer that question about The Black Cat last night After an evening of proclaiming her love for DC and especially our landmarks her answer was that she'd been there and to the 930 Club but it was when she was living here as an intern in the 90s and all she wanted was to live out in Seattle where the music was happening.